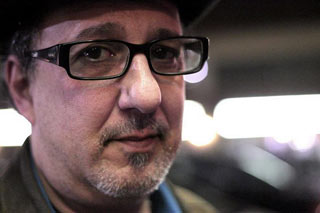 About Randy Volin

"Randy Volin was born in the late 60's in Detroit Michigan and his first memory memory of becoming hooked on music started the night the Beatles debuted on the Ed Sullivan Shoe. . For some reason he still doesn't quite comprehend, Randy became totally enthralled with music, especially the Blues, but he didn't learn how to play an instrument until 1971. After Jimi Hendrix died, Randy bought his first guitar, a used Fender Jaguar, and within 2 years he had acquired his first gig as a bass player. In 1977, Randy landed a record contract with A&M records with his band The Look, and toured extensively while releasing three albums.
In 1986, Randy finally went back to his roots, and dedicated his life as a player to the Blues. From 1986 till now, Randy has played in the Tri State area of Michigan, Illinois, and Ohio continuously, while releasing 3 solo CDs. He has played with and opened for artists such as Joe Cocker, Stevie Ray Vaughan, Wilbert Harrison, Lazy Lester, Eddie Money, Koko Taylor, Junior Wells, Albert King, BB King, Lonnie Brooks, Cheap Trick, Steve Marriott, John Mellencamp, Little Anthony, Detroit Royalty... Mitch Ryder, Johnny Bee Badanjek, and Jimmy McCarty, The Kinks, Greg Kihn, Peter Frampton, April Wine, Sonny Landreth, Johnny Johnson, John Mayall, Jeff Healy, Hubert Sumlin, J. Geils, Kirk Fletcher, Jimmy Vivino and many, many others. Randy is a self-confessed gear head and you'll quickly discover that Randy also has an envious stash of some of the most desirable vintage gear ever made.

Now living in Los Angeles, Randy is once again, doing his 'thang', Detroit style. He's been doing session work, recording, writing, rehearsing, being called to play with other artist or bands, while doing his own material too. This here is a snapshot of Randy, Detroit Thang 2015..."